Refreshing Drink Making for All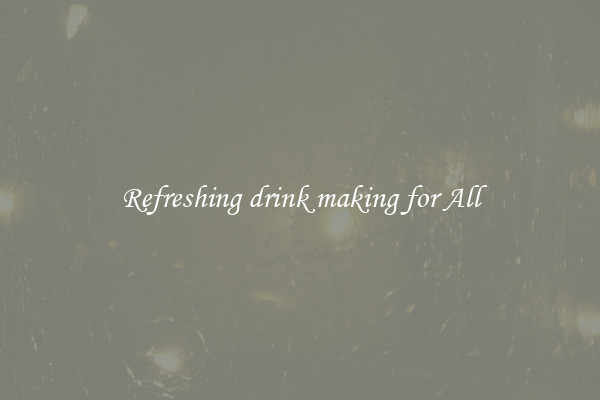 When it comes to beating the heat or simply satisfying our thirst, there's nothing quite like a refreshing drink. Whether you're hosting a gathering or just looking to cool down, making your own refreshing beverage is not only a healthier alternative to store-bought drinks but also allows you to experiment with unique flavor combinations. Here are some tips and recipes for making refreshing drinks that are sure to please everyone.
One of the simplest and most popular options is infused water. Infused water involves adding various fruits, herbs, or vegetables to plain water to infuse it with their flavors. Not only does this add a refreshing twist, but it also encourages you to drink more water, keeping you hydrated throughout the day. Some classic combinations include cucumber and mint, lemon and ginger, or strawberry and basil. Simply chop up your desired ingredients and let them steep in a pitcher of water for a few hours. The longer they sit, the more intense the flavor will be.
For those who crave a bit more excitement in their drinks, homemade lemonade is a perfect choice. Starting with freshly squeezed lemons ensures a zesty and tangy flavor that can't be replicated with store-bought substitutes. Combine the lemon juice with water and sweeten to taste with sugar or a natural alternative like honey or maple syrup. If you're feeling adventurous, try adding a splash of sparkling water or mixing in different fruit juices like raspberry, mango, or watermelon to create your own twist on this classic beverage.
Smoothies are another rejuvenating option that can be personalized to suit your taste buds. Combining fresh or frozen fruits with yogurt, milk, or your preferred non-dairy milk alternative results in a creamy and refreshing treat. For an extra nutritious boost, consider adding some spinach or kale for a dose of greens. Get creative with your smoothie flavor combinations by mixing different fruits, such as banana and blueberry or pineapple and coconut, and don't underestimate the power of a small handful of nuts or a sprinkle of spices like cinnamon or nutmeg to elevate the taste.
If you're looking to beat the heat with an adult beverage, don't worry – there are plenty of refreshing cocktails to try. A classic mojito with fresh mint and lime is always a winner, or experiment with a tropical-themed piña colada or a light and fruity sangria. Remember to drink responsibly and in moderation.
The joy of making your own refreshing drinks is that the possibilities are endless. Don't be afraid to get creative and experiment with different flavors that excite your taste buds. Whether you're hosting a party, lounging by the pool, or simply in need of a pick-me-up, these homemade creations are sure to keep you cool and satisfied all summer long. So grab your favorite ingredients and get mixing!